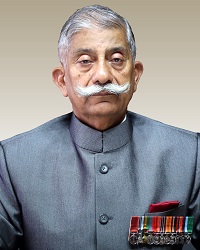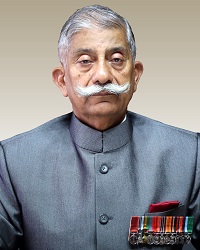 About
Brig. (Dr.) B.D. Mishra (Retd.) was born on July 20, 1939 at Village: Kathauta, Post: Gopiganj, District: Sant Ravidas Nagar (Bhadohi), Uttar Pradesh.
Parents' Names:
Late Pt. Jagannath Mishra (Father)
Late Smt. Dhirajee Devi (Mother)
Early education:
He did his High School and Intermediate from Maharaja Vibhuti Narayan Government Intermediate College, Gyanpur in Uttar Pradesh and BA from Kashi Naresh Government Degree College, Gyanpur in Uttar Pradesh.
Joining of the Indian Army:
Brig (Dr.) B.D. Mishra, now retired, was commissioned in Infantry, the Madras Regiment, on December 17, 1961. He retired, after an illustrious army career spreading over 33 years 7 months with an extended service of two years, granted to him for his meritorious operational service, from the National Security Guard (NSG) on July 31, 1995.
Brig. (Dr.) B.D. Mishra, served during all the three major wars forced on India; in 1962 Sino-Indian War, 1965 Indo-Pak War, and 1971 Bangladesh Liberation War. He operated in insurgency area from 1963 to 1964. He commanded an Infantry Battalion on Line of Actual Control in Poonch Sector from 1979-81. He commanded an Infantry Brigade as a part of the Indian Peace Keeping Force (IPKF) in Sri Lanka and fought against the LTTE during the most intense stage of Operation PAWAN on Jaffna-Palali axis and, after the Jaffna battle, in Vavunia and Trincomalee, from 1987 to 1988. On 24 / 25 April night in 1993, as Counter Hijack Force Commander of the National Security Guard (NSG), he led a surgical strike on an Indian Airlines hijacked aircraft at Raja Sansi Airfield, Amritsar. After elimination of the hijacker by the commandos, 126 passengers, 9 infants and 6 crew members were safely rescued. He received Commendation from the Prime Minister of India for this operation. After his retirement, when Pakistani Army occupied the Kargil defences, he volunteered to join the Kargil War against the Pakistanis in 1999
Brig. (Dr.) B.D. Mishra (Retd.) holds MA degree from Allahabad University, M.Sc. degree from Madras University, Passed Staff College (PSC) and earned 'Dagger' from Defence Services Staff College, LLB degree from Delhi University and Ph.D. degree from Jiwaji University, Gwalior. He has been a Faculty at College of Combat at Mhow and the Defence Services Staff College at Wellington.
Brig. (Dr.) Mishra (Retd.) took oath as the Governor of Arunachal Pradesh on 3rd October 2017. As the Governor of Arunachal Pradesh, he is the President of the NERIST Society (North Eastern Regional Institute of Science and Technology – a Deemed University under the Ministry of Human Resource Development, Government of India). He is also the Chief Rector of the Rajiv Gandhi University (RGU) – a Central University under the Government of India, Chairman of the State Ex-Servicemen Association, President of Indian Red Cross Society, Arunachal Pradesh State Branch, and Patron of State Bharat Scouts and Guides
Brig. (Dr.) Mishra (Retd.) is married to Smt. Neelam Mishra. They have two children, Shri Neelotpal Mishra, son, an alumnus of erstwhile Royal Military College of Science, the Defence Academy of the United Kingdom, Shrivenham, holds a Post Graduate Degree from the University of Oxford , England. Smt. Kaninika Mishra, daughter is a Post Graduate from the East Carolina University – College of Business, United States and holds Masters Degree in Management from Queensland University of Technology, Australia
Contact Details
Phone:0360-2212432Fax:0630-2212442
Address: Raj Bhavan
P-Sector,ITANAGAR
Papum Pare District,
Arunachal Pradesh
Pin 791111
Former Governor List
| | | | |
| --- | --- | --- | --- |
| S.No | Name | From | To |
| 1 | Bhishma Narain Singh | 20-Feb-87 | 18-Mar-87 |
| 2 | R.D. Pradhan | 18-Mar-87 | 16-Mar-90 |
| 3 | Gopal Singh | 16-Mar-90 | 8-May-90 |
| 4 | Devi Das Thakur | 8-May-90 | 16-Mar-91 |
| 5 | Loknath Mishra | 16-Mar-91 | 25-Mar-91 |
| 6 | Surendranath Dwivedy | 25-Mar-91 | 4-Jul-93 |
| 7 | Madhukar Dighe | 4-Jul-93 | 20-Oct-93 |
| 8 | Mata Prasad | 20-Oct-93 | 16-May-99 |
| 9 | S.K. Sinha | 16-May-99 | 1-Aug-99 |
| 10 | Arvind Dave | 1-Aug-99 | 12-Jun-03 |
| 11 | V. C. Pande | 12-Jun-03 | 15-Dec-04 |
| 12 | Shilendra Kumar Singh | 15-Dec-04 | 3-Sep-07 |
| 13 | K. Sankaranarayanan | 3-Sep-07 | 26-Jan-08 |
| 14 | Joginder Jaswant Singh | 26-Jan-08 | 28-May-13 |
| 15 | Nirbhay Sharma | 28-May-13 | 12-May-15 |
| 16 | Jyoti Prasad Rajkhowa | 12-May-15 | 14-Sep-16 |
| 17 | V. Shanmuganathan | 14-Sep-16 | 27 January 2017 (resigned) |
| 18 | Padmanabha Acharya | 27-Jan-17 | 3-Oct-17 |
| 19 | B. D. Mishra | 3-Oct-17 | Incumbent |