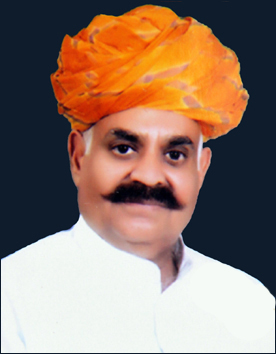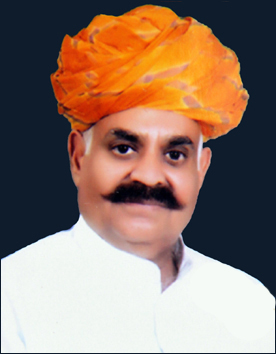 About
Father's Name:
Lt. Col. Th. Gopal Singh Badnore
Date of Birth:
12 May 1948
Place of Birth:
Badnore, Distt. Bhilwara (Rajasthan)
Educational Qualification:
Schooling at Mayo College Ajmer, B.A. (Hons.) Business Management A.S.C.I. Hyderabad
Profession:
Farmer, Political and Social Worker, Educationist

Permanent Address:
Punjab Raj Bhavan, Sector-6, Chandigarh 0172-2740608, 2740609, 2740610
Position Held:
1977-80, 1985-90, 1993-98 and 1998-99 Member of Rajasthan Legislative Assembly
1999-2004 Member, Thirteenth Lok Sabha
2004-2009 Member, Fourteenth Lok Sabha
2010-2016 Member of Rajya Sabha
1999-2000 Member, Committee on Energy and Defence and Coverner of its Sub-Committee on Action Taken Report 2001.
Coverner, Sub-Committee on Electricity Bill, 2001
Coverner, Sub-Committee on Nuclear Energy 2001-2002
Member, Joint Parliamentary Committee on Stock Market Scam 2001-2003
Member, Consultative Committee for the Ministry of External Affairs Member
National Advisory Committee,
NCC Member, Library Committee Member, National Tourism Board 2004-2009 Committee on Energy Member,
National Tiger Conservation Authority July 2010
Member, Consultative Committee for the Ministry of Environments and Forests May 2012-Sept. 2014
Member, Committee on Petitions Aug. 2010-Aug. 2011 and Aug. 2012- May 2014
Member, Committee on Energy Oct. 2012- May 2014
Member, Joint Parliamentary Committee on Security in Parliament House Complex June 2014
Nominated to the top Panel of Vice- Chairman, Rajya Sabha Aug. 2014
Onwards Member, General Purposes Committee Sept. 2014
Onwards Chairman, House Committee Member,
Consultative Committee for the Ministry of Defence Dec. 2014-Feb. 2015
Chairman, Select Committee of Rajya Sabha on the Payment and Settlement Systems (Amendment) Bill, 22014-2015.
Member, Select Committee of Rajya Sabha on the Coal Mines (Special provisions) Bill, 2015.
Books Published:
Jaimal Vansh Prakash (History of Badnore (Mewar) and Mertiya Rathore), 2013 Social and Cultural Activities: Environment, wild life photography and vintage cars Literary, Artistic and Scientific Accomplishments and other
Special Interests Sports, Clubs, Favorite:
Swimming Participated at the National School level swimming competition.
Pastimes and Recreation:
Member (i) Delhi Golf Club (ii) Delhi Gymkhana Club (iii) Bombay Gymkhana Club, Mumbai
Countries Visited: Widely Travelled Member
Indian Delegation to Commonwealth Parliamentary Association, Canada, 1994 and 2004.
Indian Delegation to China (2001), Nigeria Senegal South Africa (2002), U.K., U.S.A., (2003), Japan (2004)
Indian Parliamentary Delegation of South Asia Free Media Association (SAFMA) to Pakistan (2003)
Delegation of Parliamentary Network of World Bank (PNOWB) to Greece, Finland, Switzerland, Japan (2004)
Delegation to the 7th Yale Parliamentary Leadership Programme in USA, 2013.
Other Information:
Chairman, Special Task Force to rehabilitate tigers in Sariska (Rajasthan), Government of Rajasthan, 2005-09
Empowered Committee of Forests & Wild life Management in Rajasthan and
Mayoor Chopasni School Committee, 2012- 2015; Member
National Advisory Committee on Tourism, 2002-2003
Wild life Preservation Board, Rajasthan for the last 20 years.
Steering Committee, "Project Tiger" Board of Governors, Mayo College, Ajmer since 1985.
Collaboration Committee of Mayo College General Council; Vice-President, Bhartiya Janata party, Rajasthan, 1989-90 and 2001-2010
Mayoor School, Abu Dhabi Since 2013 Founder Member and Executive Member, Indo British Parliamentary Forum; 2003-2004; CoChair of the Indo-US Parliamentary Forum; Worked in London (UK) in New Caxton Encyclopedia in 1970; Worked in Escorts Ltd. (India) in the Management Cadre, 1970-77 and 1980-81; Founder Member/ Vice President
Mayoor Abu Dhabi School, 2012-13
Mayoor Chopasni, Jodhpur, 2012-2013 and
Mayoor School, Raipur, 2012-2013 and
Jan. 2015- Participated in UNFPA-IAPPD Conference at Bangkok.
Sep. 2015- Attended Climate Change & renewable energy Conference of Parliamentarians at London, U.K.
Oct. 2015- Leader of 5 Members MP's delegation to Japan for furthering bilateral relationship sponsored by Sasakawa Peace foundation, Japan. 5
On August 22, 2016- Took over as the Governor of Punjab and Administrator of U.T. Chandigarh.
Contact Details
Phone :
2740740(O), 2740608(R)
Address : Punjab Raj Bhavan, Sector 6,
Chandigarh – 160019, India

Former Administrator List
| | | | |
| --- | --- | --- | --- |
| S.No | Name | From | To |
| 1 | Bhairab Datt Pandey | 14-Mar-85 | 14-Nov-85 |
| – | Hokishe Sema (Addl. charge) | 14-Nov-85 | 26-Nov-85 |
| 2 | Shankar Dayal Sharma | 26-Nov-85 | 2-Apr-86 |
| 3 | Siddharta Shankar Ray | 2-Apr-86 | 8-Dec-89 |
| 4 | Nirmal Mukarji | 8-Dec-89 | 14-Jun-90 |
| 5 | Virendra Verma | 14-Jun-90 | 18-Dec-90 |
| 6 | Om Prakash Malhotra | 18-Dec-90 | 7-Aug-91 |
| 7 | Surendra Nath | 7-Aug-91 | 9-Jul-94 |
| 8 | Sudhakar Panditrao Kurdukar | 10-Jul-94 | 18-Sep-94 |
| 9 | B. K. N. Chhibber | 18-Sep-94 | 27-Nov-99 |
| 10 | J. F. R. Jacob | 27-Nov-99 | 8-May-03 |
| 11 | Om Prakash Verma | 8-May-03 | 3-Nov-04 |
| – | Akhlaqur Rahman Kidwai (Addl. charge) | 3-Nov-04 | 16-Nov-04 |
| 12 | Sunith Francis Rodrigues | 16-Nov-04 | 22-Jan-10 |
| 13 | Shivraj Patil | 22-Jan-10 | 21-Jan-15 |
| – | Kaptan Singh Solanki (Addl. charge) | 21-Jan-15 | 22-Aug-16 |
| 14 | V. P. Singh Badnore | 22-Aug-16 | Incumbent |