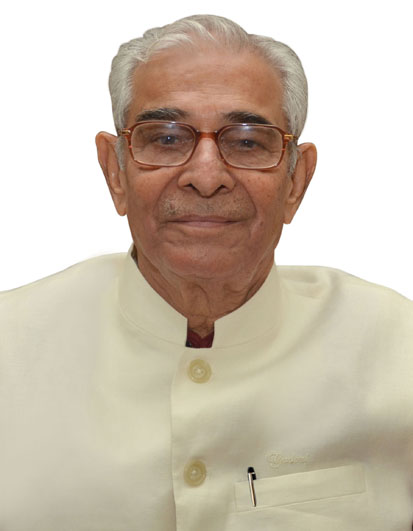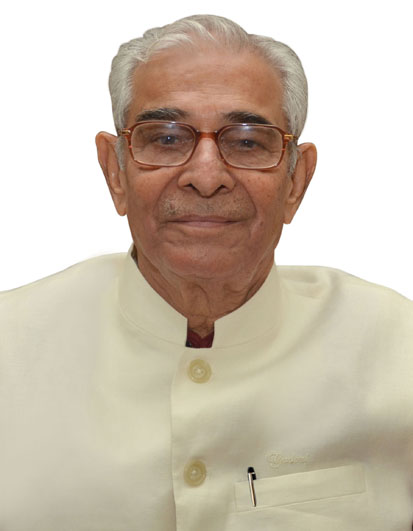 About
Father's Name
Late Shri Manohar Lal Kohli
Mother's Name
Late Shrimati Shiv Devi
Date of Birth
August 9, 1935
Place of Birth
Delhi
Spouse's Name
Shrimati Avinash Kohli
Children
Three : (Son : Vishu Kohli Daughters : Smt. Suparna Kohli and Ms. Ritu Kohli)
Education
MA (Hindi) from University of Delhi

Prabhakar from Punjab University

Sahitya Ratna from Prayag
Work Experience
Worked as a lecturer at Hansraj College & Deshbandhu College (University of Delhi) for over 37 years. Retired as a Reader in 1994.
Student activism
Was PM of Hansraj College (University of Delhi) Parliament

Was a Member of Delhi University Students Union (DUSU) Executive

Was All India President of Akhil Bharatiya Vidyarthi Parishad (ABVP) for 3 consecutive terms.
Teacher activism
Was President of Delhi University's Teachers Association (DUTA) from 1973-79

Was elected member of Academic and Executive Councils of the University of Delhi

Was President of National Democratic Teacher's Front (NDTF), a nationalist organization of University Teachers
Political activism
Was arrested under MISA for 19 months during the National Emergency and lodged in Delhi, Agra and Varanasi jails.
Years in Parliament
Was elected as a member of Rajya Sabha (1994-2000)

Chairman, Housing Committee, Rajya Sabha

Member, Committee on papers to be laid on the table of Rajya Sabha

Member, Standing Committee on Urban & Rural Development

Member, Standing Committee on Finance

Member, Standing Committee on Finance
Organizational responsibilities held
President of Delhi State BJP from 1991-95 and for the second time in 2009-10

National Secretary, BJP

Incharge (Prabhari) of Jammu & Kashmir, Punjab, Chandigarh, Haryana, Himachal Pradesh and Rajasthan

Secretary, Central Disciplinary Committee, BJP

President, Central Disciplinary Committee, BJP

BJP Headquarters Incharge
Interests
Academics and educational activities
As Governor
He resumed the office of the Governor of Gujarat on 16th July, 2014.
Former Governor List
| | | | |
| --- | --- | --- | --- |
| S.No | Name | From | To |
| 1 | Mehdi Nawaz Jung | 1-May-60 | 1-Aug-65 |
| 2 | Nityanand Kanungo | 1-Aug-65 | 7-Dec-67 |
| – | P.N. Bhagwati (Acting) | 7-Dec-67 | 26-Dec-67 |
| 3 | Shriman Narayan | 26-Dec-67 | 17-Mar-73 |
| – | P.N. Bhagwati (Acting) | 17-Mar-73 | 4-Apr-73 |
| 4 | Kambanthodath Kunhan Vishwanatham | 4-Apr-73 | 14-Aug-78 |
| 5 | Sharda Mukherjee | 14-Aug-78 | 6-Aug-83 |
| 6 | Kizhekethil Mathew Chandy | 6-Aug-83 | 26-Apr-84 |
| 7 | Braj Kumar Nehru | 26-Apr-84 | 26-Feb-86 |
| 8 | Ram Krishna Trivedi | 26-Feb-86 | 2-May-90 |
| 9 | Mahipal Shastri | 2-May-90 | 21-Dec-90 |
| 10 | Sarup Singh | 21-Dec-90 | 1-Jul-95 |
| 11 | Naresh Chandra | 1-Jul-95 | 1-Mar-96 |
| 12 | Krishna Pal Singh | 1-Mar-96 | 25-Apr-98 |
| 13 | Anshuman Singh | 25-Apr-98 | 16-Jan-99 |
| – | K.G. Balakrishnan (Acting) | 16-Jan-99 | 18-Mar-99 |
| 14 | Sunder Singh Bhandari | 18-Mar-99 | 7-May-03 |
| 15 | Kailashpati Mishra | 7-May-03 | 2-Jul-04 |
| 16 | Balram Jakhar | 2-Jul-04 | 24-Jul-04 |
| 17 | Nawal Kishore Sharma | 24-Jul-04 | 24-Jul-09 |
| 18 | S. C. Jamir | 30-Jul-09 | 26-Nov-09 |
| 19 | Kamala Beniwal | 27-Nov-09 | 6-Jul-14 |
| – | Margaret Alva (Additional Charge) | 7-Jul-14 | 15-Jul-14 |
| 20 | Om Prakash Kohli | 16-Jul-14 | Till Date |