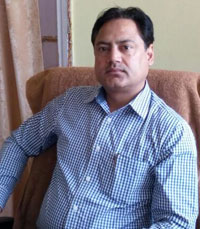 About
The best way to make a decision in a society is through larger participation of all its citizens having access to relevant information. In addition, the internet has redefined relationships among various stakeholders in the process of governance. This improved website of office of the Chief Electoral Officer, J&K (ceojk.nic.in) is an attempt to provide a citizen-friendly, open and transparent interface between the Election Department and the electors of J&K.
The organization has placed in the public domain, all basic information related to elections. The entire electoral roll is in PDF format, with a search facility for citizens to check their names and other particulars in the rolls, the name and telephone number of their Booth Level Officers (BLOs) and the location of their polling stations.
An E-filing facility for addition of new voters, objections to inclusion and deletion and modifications is also available in this website.In addition, SMS services have also been started which enable the voter to receive information about his BLO, Polling station, Status of electoral roll etc on his mobile telephone.
We seek the response of all stakeholders to this website and welcome suggestions for improvement.
Contact Details of Chief Electoral Officer (CEO)
Shri. Hirdesh Kumar, IAS
Chief Electoral Officer, Jammu & Kashmir and Ladakh
| | | |
| --- | --- | --- |
| Office: | 0194 – 2473609 | 0191 – 2477519 |
| Fax: | 0194 – 2452654 | 0191 – 2477389 |
Forms for Citizens
Form 4 Application For New Registration of Electors at the time of Enumeration (house to house verification) when enumerator finds the house repeatedly locked.
Form 6 Application for inclusion of name in electoral roll after draft publication of draft roll (if your name is not included in the draft role).
Form 6A Application for inclusion of name in electoral roll by an overseas elector.
Form 7 Application for objection to inclusion of name in electoral roll.
Form 8 Application for objection to particulars entered in electoral roll.
Form 8A Application for transposition of entry in electoral roll.
Form_18 Claim for inclusion of name in the electoral roll for a graduates' constituency.
Form_19 Claim for inclusion of name in the electoral roll for a teachers' constituency.
Forms for Candidate
Form 2A Nomination paper for Lok Sabha Election.
Form 2B Nomination paper for Legislative Assembly Election.
Form 26 Affidavit regarding Criminal Cases.