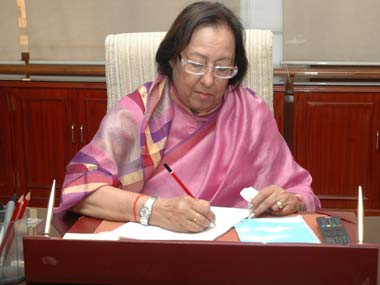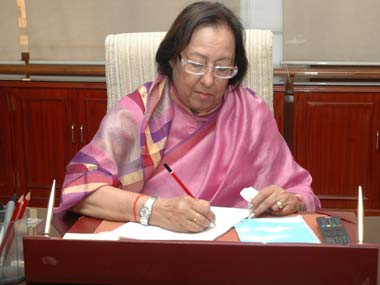 About
Dr. Najma Akbarali Heptulla (born 13 April 1940) is an Indian politician. She is a former vice-president of the Bharatiya Janata Party (BJP), and a five time member of the Rajya Sabha, the Upper House of the Indian parliament, between 1986 and 2012, and Deputy Chairman of the Rajya Sabha for sixteen years. She was a member representing Rajasthan from July 2004 to July 2010. She was nominated by the BJP for the Rajya Sabha in 2012 from Madhya Pradesh, and assumed her office on 24 April 2012.
She contested the 13th vice-presidential election held in August 2007 but lost to Hamid Ansari by 233 votes. She took oath as a cabinet minister in the Narendra Modi headed government on 26 May 2014. She is assisted by Mukhtar Abbas Naqvi who joined the Council of Ministers as a Minister of State in November 2014.
She was sworned as the Governor of Manipur on 21 August 2016.
Former Governor List
| | | | |
| --- | --- | --- | --- |
| S.No | Name | From | To |
| 1 | B. K. Nehru | 21-Jan-72 | 20-Sep-73 |
| 2 | L.P. Singh | 21-Sep-73 | 11-Aug-81 |
| 3 | S. M. H. Burney | 18-Aug-81 | 11-Jun-84 |
| 4 | K. V. Krishna Rao | 2-Jun-84 | 7-Jul-89 |
| 5 | Chintamani Panigrahi | 10-Jul-89 | 19-Mar-93 |
| 6 | K. V. Raghunatha Reddy | 20-Mar-93 | 30-Aug-93 |
| 7 | V.K. Nayar | 31-Aug-93 | 22-Dec-94 |
| 8 | O.N. Shrivastava | 23-Dec-94 | 11-Feb-99 |
| 9 | Ved Marwah | 2-Dec-99 | 12-Jun-03 |
| 10 | Arvind Dave | 13-Jun-03 | 5-Aug-04 |
| 11 | Shivinder Singh Sidhu | 6-Aug-04 | 22-Jul-08 |
| 12 | Gurbachan Jagat | 23-Jul-08 | 22-Jul-13 |
| 13 | Ashwani Kumar | 23-Jul-13 | 31-Dec-13 |
| 14 | Vinod Duggal | 31-Dec-13 | 28-Aug-14 |
| 15 | K. K. Paul (Addl Charge) | 16-Sep-14 | 15-May-15 |
| 16 | Syed Ahmed | 16-May-15 | 27-Sep-15 |
| 17 | V. Shanmuganathan (Addl. charge) | 30-Sep-15 | 17-Aug-16 |
| 18 | Najma A. Heptulla | 21-Aug-16 | Incumbent |