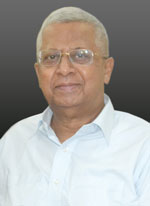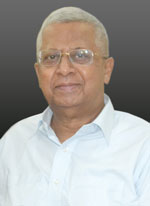 About The Hon'ble Governor:
Shri Tathagata Roy has been serving as the Governor of Meghalaya since August 2018. He had previously served as Governor of Tripura (2015–2018), following a political career with the Bharatiya Janata Party, which included a stint as President of its West Bengal state unit (2002–2006). He was then a member of the BJP National Executive, the party's central policy-making body, from 2002 till 2015.
The Hon'ble Governor Shri Tathagata Roy also briefly held additional charge of the office of Governor of Arunachal Pradesh, during which he handled the ouster of Chief Minister Kalikho Pul following a Supreme Court judgement and swore in Pema Khandu as the new Chief Minister.
Life and work:
The Hon'ble Governor Shri Tathagata Roy was born on 14th September, 1945 in Kolkata to Debesh Chandra Roy and Anila (née Dutta). He had spent a part of his childhood till the age of eight at Lower Jail Road, Shillong. Later, when his uncle built a house in Laitumkhrah he used to visit him every 2 or 3 years. Thus, he has had a very close connection with the city and knows it like the back of his hand. His brother Saugata Roy (Member of Parliament from Dum Dum, West Bengal) was born in Shillong. He had a distinguished academic career, having been a rank holder in the school leaving examination and a Jagadis Bose National Science Talent Search Scholar. He studied Civil Engineering in Bengal Engineering College Sibpur (currently Indian Institute of Engineering Science and Technology, Shibpur), when it was affiliated with the University of Calcutta. Later he joined Indian Railways Service of Engineers. He worked as General Manager, RITES and as Chief Engineer -Design of Metro Railways, Calcutta. He also holds a Law Degree of Calcutta University.
Roy took voluntary retirement from the Railways in 1990. He then joined Jadavpur University as professor and founder head of the Department of Construction Engineering at its new campus at Salt Lake, Calcutta. He is a former Chairman Board of Governors of TTTI Calcutta (2000 to 2004). He is a fellow of the Institution of Engineers (India) and life member of the Indian Council of Arbitration. He functioned as an arbitrator in a number of engineering contracts till he became governor.
The Governor writes extensively in both English and Bengali, usually on socio-political subjects, and has been published in a number of journals, such as The Statesman, Desh, etc. He has two books in English to his credit titled, "My People Uprooted: The Exodus of Hindus from East Pakistan and Bangladesh", and "Syama Prasad Mookerjee: Life and Times", and a Bengali translation of the first. A Bengali translation of the second is due to come out shortly. Both translations were done by the Governor himself. The second has also been translated into Hindi under the title "Apratim Nayak Dr. Syama Prasad Mukerjee".
The Governor was felicitated as an 'Eminent Engineering Personality' by the Institution of Engineers (India) at the Engineering Congress held at Guwahati in December 2015 and awarded the distinguished Alumni award by Indian Institute of Engineering Science and Technology, Shibpur, (formerly Bengal Engineering College, Sibpur) during the Second Annual Convocation of the Institute on 4th March 2016. He was also conferred the degree of Doctor of Letters (Honoris Causa) by the Shri J. J. T. University, Vidyanagari, Jhunjhunu, Rajasthan, at a special convocation at Mumbai in May 2016. He was further conferred the degree of Doctor of Engineering (Honoris Causa) by the National Institute of Technology, Agartala, Tripura, at the convocation in November 2016.
Political Life:
Roy was attracted towards Hindutva and became a Swayamsevak in 1986. After leaving government service he joined the BJP in 1990. He replaced Ashim Ghosh as president of the West Bengal state unit of the BJP in 2002 and was succeeded by Sukumar Banerjee in 2006.
Roy stood as a candidate for election to the Lok Sabha in 2009, standing in the North Kolkata constituency of West Bengal. He did not win. He stood as the BJP candidate in the Kolkata Dakshin (South Kolkata) parliamentary constituency for the Indian general election, 2014, earning 25.29% of the total votes polled. He was selected as the Governor of Tripura on 12th May, 2015. He was transferred and appointed as the Governor of Meghalaya on 25th August, 2018.
Former Governor List
| | | | |
| --- | --- | --- | --- |
| S.No | Name | From | To |
| 1 | Braj Kumar Nehru | 1-Apr-70 | 18-Sep-73 |
| 2 | Lallan Prasad Singh | 19-Sep-73 | 10-Aug-81 |
| 3 | Prakash Mehrotra | 11-Aug-81 | 28-Mar-84 |
| 4 | Tribeni Sahai Misra | 29-Mar-84 | 15-Apr-84 |
| 5 | Bhishma Narain Singh | 16-Apr-84 | 10-May-89 |
| 6 | Harideo Joshi | 11-May-89 | 26-Jul-89 |
| 7 | Abubakar Abdul Rahim | 27-Jul-89 | 8-May-90 |
| 8 | Madhukar Dighe | 9-May-90 | 18-Jun-95 |
| 9 | M. M. Jacob | 19-Jun-95 | 11-Apr-07 |
| 10 | Banwari Lal Joshi | 12-Apr-07 | 28-Oct-07 |
| 11 | Shivinder Singh Sidhu | 29-Oct-07 | 30-Jun-08 |
| 12 | Ranjit Shekhar Mooshahary | 1-Jul-08 | 30-Jun-13 |
| 13 | Krishan Kant Paul | 1-Jul-13 | 6-Jan-15 |
| 14 | Keshari Nath Tripathi | 6-Jan-15 | 19-May-15 |
| 15 | V. Shanmuganathan | 20-May-15 | 27-Jan-17 |
| 16 | Banwarilal Purohit | 27-Jan-17 | 5-Oct-17 |
| 17 | Ganga Prasad | 5-Oct-17 | 25-Aug-18 |
| 18 | Tathagata Roy | 25-Aug-18 | Incumbent |