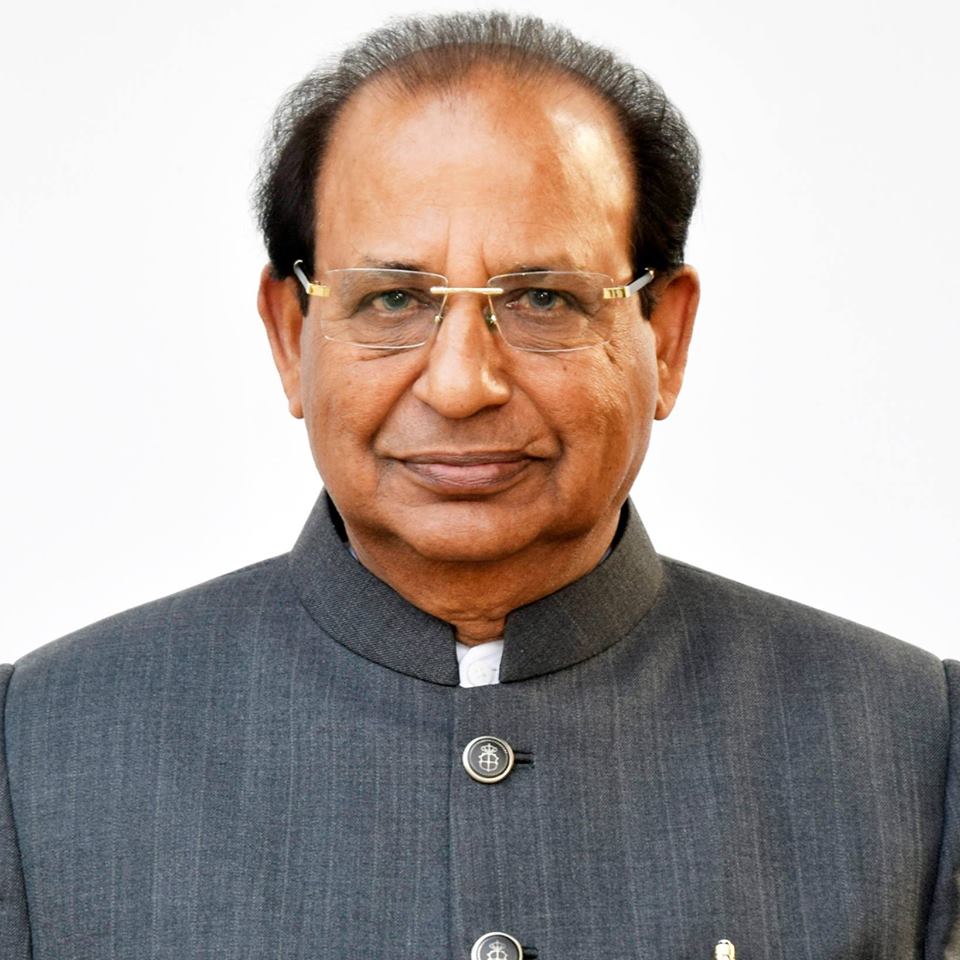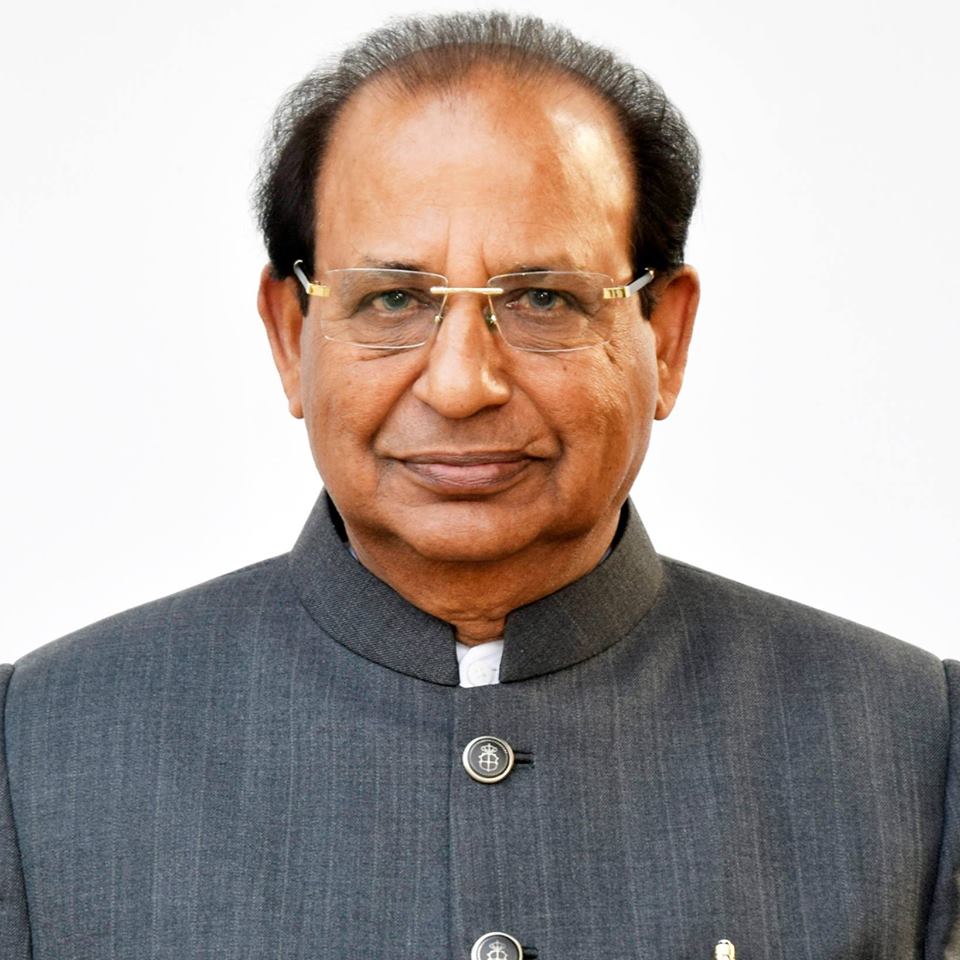 About
Prof Jagdish Mukhi was born on 1 December 1942 in Dajal, Dera Gazi Khan, to a Punjabi Hindu family. At age 4, during the partition of India, the family moved to Sohna.
Mukhi gained a B.Com from Raj Rishi College in Alwar, Rajathan in 1965, followed by M.Com from the university of Delhi in 1967. Untill entering politics he was a professor at Shaheed Bhagat Singh College, Delhi University, but before that he was an IPS officer and resigned after training. He was awarded a PHD in Finance from Kurukshetra University in October, 1995.
He married Prem Grover in 1970, who as Prem Mukhi is actively involved in social development works for women empowerment under the banner of Mahila Jagriti Sangh. He is blessed with a son Atul (BE, MBA) and a daughter Latika.
Political career
Mukhi attended an RSS training camp while at school in Panipat in 1958, became the Secretary (Karyawaha) of Alwar District RSS in 1964, and campaigned against the Emergency with the Delhi RSS in 1975. Having moved to Janakpuri, Delhi in 1973, he became the General Secretary of the Janakpuri branch of the nascent Janata Party in September, 1977.
His first election success was in a 1980 by-election for the advisory Delhi Metropolitan Council.
He held the role of Minister of Higher Education, when he launched Guru Gobind Singh Indraprastha University in the record time of 8 months.
He was awarded as best planning minister of the nation by the then Union Planning Minister Pranab Mukherjee. Two times he was awarded with best MLA award in Delhi Vidhan Sabha. He represented Janakpuri constituency continuously from 1980 and has won seven continuous Vidhan Sabha elections from the same constituency. He has worked at all levels in the BJP and given the best performance as President, BJP Mandal Janakpuri; General Secretary, BJP West District; President, BJP West District; General Secretary, BJP Delhi; Prabhari, BJP affairs Jammu & Kashmir; Prabhari BJP affairs Haryana.

His performance was best appreciated in Lok Sabha & Vidhan Sabha elections of Haryana where BJP had got results to the best ever performance and first time in Haryana BJP Chief Minister without any support has taken the oath.
He became Lieutenant Governor of Andaman and Nicobar Islands in August 2016, then Governor of Assam in September 2017.
He took Oath of Office of the Governor of Mizoram on 9 March 2019.
Former Governor List
| | | | |
| --- | --- | --- | --- |
| S.No | Name | From | To |
| 1 | Hiteswar Saikia | 20-Feb-87 | 30-Apr-89 |
| 2 | General K. V. Krishna Rao (additional charge) | 1-May-89 | 20-Jul-89 |
| 3 | Capt W.A. Sangma | 21-Jul-89 | 7-Feb-90 |
| 4 | Swaraj Kaushal | 8-Feb-90 | 9-Feb-93 |
| 5 | P.R.Kyndiah | 10-Feb-93 | 28-Jan-98 |
| 6 | Dr A.P.Mukherjee | 29-Jan-98 | 1-May-98 |
| 7 | A. Padmanabhan | 2-May-98 | 30-Nov-00 |
| 8 | Ved Marwah (additional charge) | 1-Dec-00 | 17-May-01 |
| 9 | Amolak Rattan Kohli | 18-May-01 | 24-Jul-06 |
| 10 | Lt. Gen (Retd) M.M.Lakhera | 25-Jul-06 | 2-Sep-11 |
| 11 | Vakkom Purushothaman | 2-Sep-11 | 6-Jul-14 |
| 12 | Kamla Beniwal | 6-Jul-14 | 6-Aug-14 |
| 13 | Vinod Kumar Duggal (additional charge) | 8-Aug-14 | 16-Sep-14 |
| 14 | K. K. Paul (Addl with Meghalaya) | 16-Sep-14 | 8-Jan-15 |
| 15 | Aziz Qureshi | 9-Jan-15 | 28-Mar-15 |
| 16 | Keshari Nath Tripathi (additional charge) | 4-Apr-15 | 25-May-15 |
| 17 | Lt General (Retd) Nirbhay Sharma | 26-May-15 | 28-May-18 |
| 18 | Kummanam Rajasekharan | 29-May-18 | 8-Mar-19 |
| 19 | Jagdish Mukhi (additional charge) | 9-Mar-19 | Incumbent |