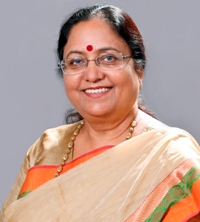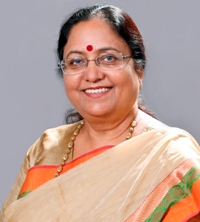 About
| | |
| --- | --- |
| Name | Smt.Baby Rani Maurya |
| Husband's Name | Shri Pradeep Kumar |
| Date of Birth | August 15, 1956 |
| Educational Qualifications | M.A., B.Ed. |
| Address | 4/A, Cariappa Road ,Agra, Uttar Pradesh |
Life and Work :
Uttarakhand Governor Smt Baby Rani Maurya has had a long and rich experience in administration and politics as well as in public life.
Before being appointed as the Governor of Uttarakhand, she has fulfilled several political, administrative and social responsibilities.
From 1995 to the year 2000. Smt Maurya was the mayor of Agra at which post she made many remarkable achievements as an efficient administrator. In the year 2001, she was the member of the State Social Welfare Board .In 2002, she was a member of the National Women's Commission and played a prominent role in promoting women's welfare and empowerment.
Besides fulfilling these important roles and responsibilities, Smt Maurya has been dedicated consistently towards works of social welfare.
For the past 18 years, she was working, through "Nav Chetana Jagriti Sansthha", for the welfare of backward and underprivileged women.
Smt Baby Rani Maurya is extremely sensitive towards women empowerment and education of the girl child.
Through the Sewa Bharati organization, she participated in the efforts being made by the organization to make girls aware about the importance of education and help poor women become financially independent.
Smt Maurya, due to her contribution to social welfare, has received many honours from time to time.
In 1996, she was awarded "Samaj Ratna", in 1997 the "Uttar Pradesh Ratna" and in 1998 "Nari Ratna" .
Former Governor List
| | | | |
| --- | --- | --- | --- |
| S.No | Name | From | To |
| 1 | Surjit Singh Barnala | 9-Nov-00 | 7-Jan-03 |
| 2 | Sudarshan Agarwal | 8-Jan-03 | 28-Oct-07 |
| 3 | Banwari Lal Joshi | 29-Oct-07 | 5-Aug-09 |
| 4 | Margaret Alva | 6-Aug-09 | 14-May-12 |
| 5 | Aziz Qureshi | 15-May-12 | 7-Jan-15 |
| 6 | Krishan Kant Paul | 8-Jan-15 | 25-Aug-18 |
| 7 | Baby Rani Maurya | 26-Aug-18 | Incumbent |