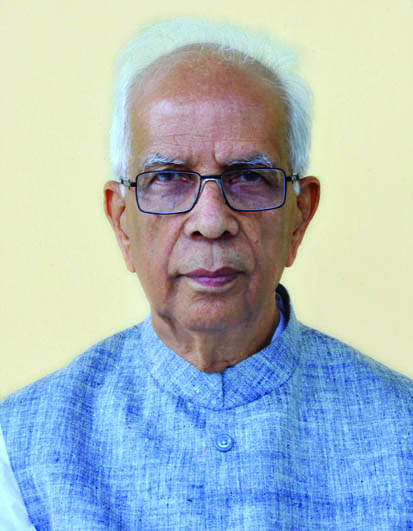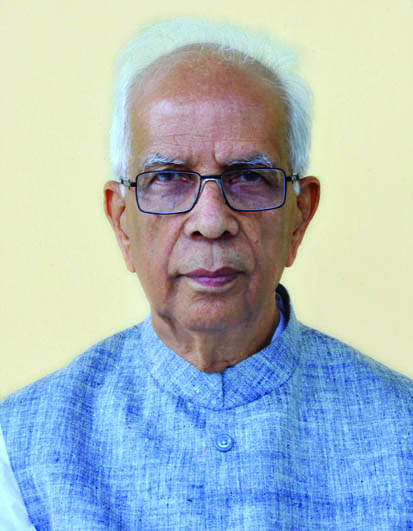 About
Shri Keshari Nath Tripathi was born on November 10, 1934 in Allahabad. His father, Late Harish Chandra Tripathi was employed in the Allahabad High Court and was reputed for his impeccable honesty and sincerity. A Senior Advocate by profession, Keshari Nath Tripathi's professional acumen, nationalistic fervour, social commitment and moral values took shape under the guidance of his revered parents and elder brother Pandit Kashi Nath Tripathi, Advocate, and Pandit Kailash Nath Tripathi. He was married to Sudha, daughter of well-known freedom fighter of Varanasi, Shri Satya Narain Misra. He has one son Neeraj Tripathi and two daughters, Namita and Nidhi. Neeraj is an advocate in Allahabad High Court. Nidhi is an Officer in Armed Forces Headquarters Service, New Delhi.
Shri Keshari Nath Tripathi graduated from Allahabad University in 1953 and passed LLB Examinations in 1955. In 1956 he was enrolled as an Advocate and practiced in the Allahabad High Court, which is the biggest High Court in India, till the second week of July 2014, except when he was a Minister in the Uttar Pradesh Government and Speaker of the UP Legislative Assembly. In 1965 he was elected to the office of the Joint Secretary of the Allahabad High Court Bar Association and was its President during the years 1987-88 and 1988-89. His long association with judicature in general and Allahabad High Court in particular was acclaimed by the Allahabad High Court when he was unanimously designated as a Senior Advocate in 1989 by Full Court.
Known as an eminent Lawyer on the Civil Side, Shri Tripathi was regarded as an expert in election law. He had the distinction of appearing and arguing cases not only on behalf of former Prime Ministers Shri Atal Behari Vajpayee and Chaudhari Charan Singh, but also for Shri Subramaniam Swamy, Shri Raj Narain, Shri H. N. Bahuguna, Shri Mahabir Prasad, Shri Kalyan Singh, Shri Laxmi Kant Bajpai, Shri Varun Gandhi, Shri Nityanand Swami and a large number of Ministers, Members of the Lok Sabha and UP Legislative Assembly. Shri Tripathi was the main draftsman, along with two other lawyers, of the election petition against Mrs. Indira Gandhi which was ultimately allowed in June 1975 and her election was set aside.
Shri Tripathi was conferred the Honoris Causa Degree of D.Litt in Law by Chaudhary Charan Singh University, Meerut, and L.L.D. by Rajarshi Puroshottam Das Tandon Open University, Allahabad.
Shri Keshari Nath Tripathi's effective public oration made him a popular orator and politician in Allahabad. As a Member of the Bharatiya Jan Sangh, Shri Tripathi discharged the duties of President of the City Unit of Jan Sangh, Member of its State Executive and National Council. He earned people's confidence by his selfless, sincere and honest public service. He suffered imprisonment in 1953 in connection with Kashmir Andolan.
Shri Tripathi was six times elected as a Member of the UP Legislative Assembly – in 1977, 1989, 1991, 1993, 1996 and 2006. He was appointed Minister for Institutional Finance and Sales Tax in Uttar Pradesh Government in 1977.
Shri Tripathi was unanimously elected three times as Speaker of the UP Legislative Assembly, firstly in 1997 and thereafter in 1997 and 2002. He resigned from this Office in 2004. While he was Speaker of the UP Legislative Assembly the then Lok Sabha Speaker appointed him as a Member of the Committee to maintain cordial relations between the Legislature and the Judiciary.
Shri Keshari Nath Tripathi was also the President of the UP Branch of Commonwealth Parliamentary Association for about nine years.
He became President of Uttar Pradesh Bharatiya Janata Party in 2004. He was a member of the National Disciplinary Committee of the party and also a Member of its National Executive.
Shri Tripathi is not only a social and political worker but is also associated with a number of educational, cultural and literary institutions. He is a revered and widely acclaimed poet and has participated in a number of poetry symposiums in the UK, the USA and Netherlands, besides India. Six compendiums of his Hindi poems have been published under the titles 'Manonukriti', 'Aayu Pankh', 'Chirantan', 'Unmukta', 'Maun Aur Shoonya' and 'Nirmal Dohey'. This six books have been collectively published as 'Sanshayita' and 'Kavya Kaanan' also. 'Manonukriti' has been translated in English and published with the title 'The Images', in Urdu with title "Akkashiye Dil", in Bengali also as 'Manonukriti'. Two collections of his poems in Urdu have been published as 'Khayalon ka Safar' and 'Jakhmo Par Shabaab' in Deonagri Script and have been transliterated in Urdu and translated in Rajasthani. Collection of his speeches has been published under the title "Samay Samay Par". His anthology in English poems is "I Am the Love" which has also been translated in Bengali.
Shri Tripathi has also written an exhaustive commentary on the Representation of the People Act, 1951 which, when published in 1974 was regarded as the last word in election law. It is still a book of reference for lawyers.
Shri Keshari Nath Tripathi is fond of travelling. He has visited about 30 countries so far namely England, the USA, France, Russia, China, Japan, Germany, Canada, Italy, Netherlands, Switzerland, Sweden, Norway, Ireland, Scotland, Wales, Australia, New Zealand, Suriname, Malaysia, Singapore, Thailand, Hong Kong, Greece, Mauritius, Namibia, Malta, Bangladesh, Nepal and Austria.
Shri Keshari Nath Tripathi took the Oath of Office of the Governor of West Bengal on 24.7.2014. As the Governor of West Bengal Shri Tripathi is also the Chancellor of State Universities in West Bengal.
Shri Keshari Nath Tripathi held simultaneously the charges of the Governor of Bihar (27th November 2014 to 16th August 2015 and from 20th June 2017 to 29th September 2017), of Meghalaya (6th January 2015 to 19th may 2015) and of Mizoram (4th April 2015 to 26th May 2015) and Tripura (30th September 2015 to 2nd November 2015). Shri Keshari Nath Tripathi is presently also discharging the functions of the Governor of West Bengal.
Former Governor List
| | | | |
| --- | --- | --- | --- |
| S.No | Name | From | To |
| 1 | Chakravarthi Rajagopalachari (acting) | 15-Aug-47 | 21-Jun-48 |
| 2 | Kailash Nath Katju | 21-Jun-48 | 1-Nov-51 |
| 3 | Harendra Coomar Mookerjee | 1-Nov-51 | 8-Aug-56 |
| 4 | Phani Bhusan Chakravartti | 8-Aug-56 | 3-Nov-56 |
| 5 | Padmaja Naidu | 3-Nov-56 | 1-Jun-67 |
| 6 | Dharma Vira | 1-Jun-67 | 1-Apr-69 |
| 7 | Deep Narayan Sinha (acting) | 1-Apr-69 | 19-Sep-69 |
| 8 | Shanti Swaroop Dhavan | 19-Sep-69 | 21-Aug-71 |
| 9 | Anthony Lancelot Dias | 21-Aug-71 | 6-Nov-79 |
| 10 | Tribhuvana Narayana Singh | 6-Nov-79 | 12-Sep-81 |
| 11 | Bhairab Dutt Pande | 12-Sep-81 | 10-Oct-83 |
| 12 | Anant Prasad Sharma | 10-Oct-83 | 16-Aug-84 |
| 13 | Satish Chandra (acting) | 16-Aug-84 | 1-Oct-84 |
| 14 | Uma Shankar Dikshit | 1-Oct-84 | 12-Aug-86 |
| 15 | Saiyid Nurul Hasan | 12-Aug-86 | 20-Mar-89 |
| 16 | T. V. Rajeswar | 20-Mar-89 | 7-Feb-90 |
| 17 | Saiyid Nurul Hasan | 7-Feb-90 | 12-Jul-93 |
| 18 | B. Satyanarayan Reddy (additional charge) | 13-Jul-93 | 14-Aug-93 |
| 19 | K. V. Raghunatha Reddy | 14-Aug-93 | 27-Apr-98 |
| 20 | Akhlaqur Rahman Kidwai (additional charge) | 27-Apr-98 | 18-May-99 |
| 21 | Shyamal Kumar Sen (acting) | 18-May-99 | 4-Dec-99 |
| 22 | Viren J. Shah | 4-Dec-99 | 14-Dec-04 |
| 23 | Gopalkrishna Gandhi | 14-Dec-04 | 14-Dec-09 |
| 24 | Devanand Konwar (additional charge) | 14-Dec-09 | 19-Dec-09 |
| 25 | M.K. Narayanan | 19-Dec-09 | 1-Jan-10 |
| 26 | M.K. Narayanan (additional charge) | Jan-10 | 30-Jun-14 |
| 27 | D. Y. Patil (acting charge) | 3-Jul-14 | 17-Jul-14 |
| 28 | Keshari Nath Tripathi | 24-Jul-14 | Incumbent |